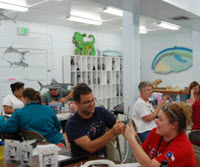 Have you been working with Robotics & looking for something to keep students going after the competition?  Or are you looking for ways to integrate STEM in your classroom?  Have you considered ROVs – remotely operated vehicles?
Working with ROVs builds on student interests in technology, are a great way to integrate STEM efforts and are fun! Who doesn't like to play in the water?
Join the Dauphin Island Sea Lab in their ROV-building training workshop this summer, July 24-28, 2016. The workshop is open to any middle or high school teacher in the Gulf of Mexico region and is supported by the Deep-C Consortium (www.deep-c.org) and the Dauphin Island Sea Lab.
Interested? Please go to http://www.disl.org/dhp/educator-workshops, look for the workshop Technology in Marine Science – ROVS or call us at 251-861-2141 x7515 for more information.
Click for 2016 ROV competition info….