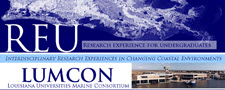 Since 2011, LUMCON has been host to groups of undergraduate students taking part in the Research Experience for Undergraduates (REU) Program. The REU Program helps student interns interested in scientific careers gain experience conducting research in the field. CWC will profile these students and their research through a series of blog and social media posts.
Keep up with the blog series here.
For more information about the REU program, check out the REU Internships page on the LUMCON website.