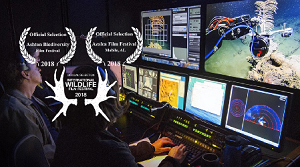 "Jewels of the Gulf," a 16-minute documentary highlighting the consortium's research into Deepwater Horizon's continued impacts on deep-sea corals.
Synopsis: "On April 20th 2010, approximately 50 miles from the Louisiana coastline, the Deepwater Horizon oil rig experienced a catastrophic failure that resulted in the largest marine oil spill in history. Over the course of 87 days, an estimated 210 million gallons of oil surged into the Gulf of Mexico from a wellhead nearly one mile beneath the surface. Images in the media portrayed the dire consequences to human lives and livelihoods, animals, and shorelines. But there are impacts that the media didn't cover — the impacts of the spill on the deepwater ecosystems of the Gulf. ECOGIG scientists are documenting the continued impacts of the accident on the unique and beautiful deep sea corals that form the basis of diverse biological communities deep beneath the Gulf's surface." (via ECOGIG)
The video is available on the group's Vimeo.