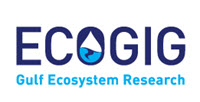 ECOGIG Kicks Off the 2016 Science at the Stadium Season
Consortium outreach staff recently brought the Ocean Discovery Zone to Penn State's Fan Fest for the season's first home game. Visitors explored the Gulf's deepwater ecosystems and learned about the importance of healthy oceans. View photos or watch a time-lapse video of the event to learn more.
"Science at the Stadium" is an extension of the Ocean Discovery Zone- you may read more about our signature outreach event here.
ECOGIG Education and Outreach Site
Visit our social media pages