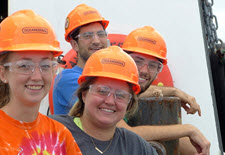 The 12-day expedition will assess the effects of oil, methane, and chemical dispersants on deep-sea corals. Remotely operated vehicles at over 1000 meters depth will capture hundreds of high-resolution still images of corals that the researchers have been monitoring since 2010. The team will analyze the images and compare them to those from previous expeditions to document the spill's impacts and assess the coral's post-spill recovery and survival.
Post cruise news!!!
The team, led by Dr. Iliana Baums from Pennsylvania State University, collected both high resolution images of the corals to document changes over time and live coral samples to study back in the lab. During the expedition, a live ROV camera feed was broadcast so the public could view what the scientists were seeing in real time.  To learn more about the Jewels of the Gulf expedition, meet the scientists, and more, visit ECOGIG's Cruise Blogs here.
Now, that amazing footage is available on ECOGIG's YouTube channel… see below!