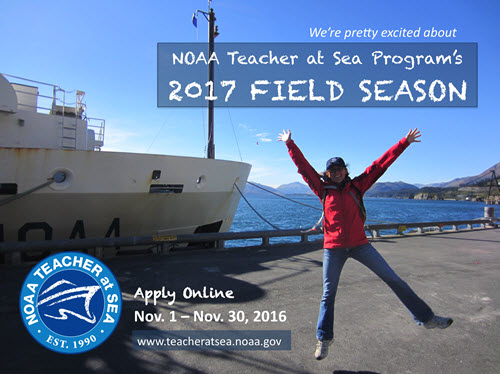 The Gulf of Mexico Alliance's Education and Engagement Team is pleased to announce NOAA's Teacher at Sea Program will accept applications for 2017 starting in November. Applications and references are accepted only through an online application system from November 1 – 30, 2016. The application closes at 5:00 pm ET on November 30.
Until then, interested applicants should:
1. Visit our Frequently Asked Questions page to learn more about program eligibility and expectations. http://teacheratsea.noaa.gov/#/faqs/
Download the pdf preview of our application to review the questions that we ask and, if so inclined, begin preparing responses. http://teacheratsea.noaa.gov/about/applications/NOAA_TAS_Blank_Application_2017.pdf
About NOAA's Teacher at Sea Program
The mission of the National Oceanic and Atmospheric Administration's (NOAA) Teacher at Sea Program is to provide teachers pre-kindergarten through college-level teachers a hands-on, real-world research experience working at sea with world-renowned NOAA scientists, thereby giving teachers unique insight into oceanic and atmospheric research crucial to the nation.