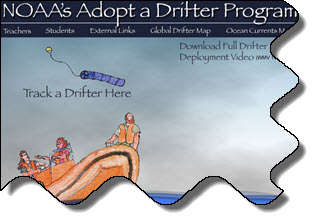 Welcome to NOAA's Adopt a Drifter Program!
http://www.adp.noaa.gov/
As coordinator of the NOAAA's adopt a Drifter Program (ADP), I welcome you to this unique opportunity to hop on the back of a drifting buoy as it hitches a ride across our vast oceans, monitoring ocean currents and sea surface temperatures. I am excited to help each of you locate a partnering school abroad so you can adopt a drifter and share your drifting buoy data and findings with others around the globe.
This is an exciting time in the world of ocean observations. We are just starting to realize the significance of global observations to all aspects of our global climate. There is a great need for many countries to be involved in measurements of all aspects of our ocean in order for our dream of understanding Earth to be satisfied. As an Adopt a Drifter Program participant, you can become involved! YOU can become the next oceanographers, marine scientists, and ocean climate experts.
Drifting buoys, or drifters, have opened the door to improve our understanding of ocean circulation and heat content. Drifters allow us to look more closely at hurricane formation and the ocean heat that may be responsible for increased storm intensity and storm movement. Drifting buoys help us confirm that our satellites are providing accurate readings of our ocean surface by validating the remote satellite data. In times of global climate change, the ability to have a tool to monitor our ocean patterns is a gift to scientists at all levels…from students to teachers to researchers in the global community.
Join me in our quest to understand more fully the mystery and excitement of our oceans. Adopt a Drifter today! Contact me at diane.stanitski@noaa.gov if you have any questions.
Welcome aboard!
Diane Stanitski, Ph.D.
Adopt a Drifter Program Coordinator