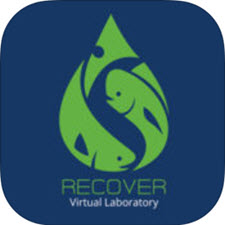 In the wake of Deepwater Horizon, scientists have been working diligently to understand the impacts of the oil spill on the Gulf of Mexico along with the wildlife and people that depend on it.
RECOVER's focus has been on the impacts of fish, specifically the economically and ecologically important #mahi-mahi and #reddrum. Most of their research and experiments take place behind closed doors in laboratories with extremely controlled settings. As a result, it is not always feasible for the general public to see what happens day-to-day. RECOVER is extremely excited to bring you our solution – the RECOVER Virtual Lab. A novel approach to bring marine science into any classroom, foster STEM learning, and improve student performance in science classes.
The app allows students to analyze real data collected by consortium scientists and observe how oil-exposed mahi and redfish swim compared to unexposed control fish. Lesson plans for teachers and quizzes testing student's performance are built-in to the app's interface, and more experiments are in development.