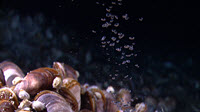 During the Deepwater Horizon incident, both oil and methane entered the surrounding marine environment from the Macondo reservoir. Scientists are investigating the released methane's effects on deep-sea ecosystems.
The Smithsonian published a story featuring the work of three GoMRI scientists – Samantha Joye, Jeff Chanton, and Frank Hernandez – who are examining microbes that feed on methane and their impact on the Gulf of Mexico food web.
Read the Ocean Portal article to learn how methane enters and affects the Gulf food web.
For more information about hydrocarbon-degrading bacteria, read these articles: