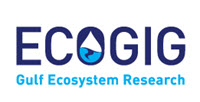 The Ecosystem Impacts of Oil and Gas Inputs to the Gulf (ECOGIG) consortium is committed to communicating its experience, observations, research, and data with other researchers, scholars, students, and the public through educational and outreach endeavors. The principal investigators engage students—from undergraduate to postdoc levels—in their research, assisting them in furthering their knowledge of the intricacies of the subject as well as the procedures. Inclusion on research cruises is a critical component in this educational process, as are internships.
ECOGIG researchers take advantage of formal educational opportunities to teach students, scholars, and colleagues about the Gulf of Mexico system, the impacts of oil and gas—naturally occurring and accidental—on the system, their research in the Gulf, and their findings from that research. Students of all levels—from kindergarten through doctoral—benefit from classroom presentations.
Similarly, the public benefits from presentations relating to ECOGIG work. Talks, seminars, museum programs, and exhibits are just some of the ways the researchers deliver their information.
Another avenue to the public's attention is media coverage. Many of the ECOGIG researchers have been in the public eye since the Macondo well blowout in 2010. The demand for their expertise, opinions, and insights on matters pertaining to the Gulf and oil spills remains high and is reflected in newspaper articles, online blogs and articles, radio and TV interviews, etc. Press releases and interviews upon the publication of a relevant paper are common.
Multimedia communication is yet another way ECOGIG investigators reach students, colleagues, the media, and the public. Some of the researchers maintain their own blog, particularly during a research cruise, and some non-ECOGIG individuals blog about ECOGIG cruises. All of the researchers have a website presence, and most have coverage of their ECOGIG work, with links to this ECOGIG site as well as the GoMRI website.
And this website provides educational content throughout, as well as teaching materials.
ECOGIG Education and Outreach Site
Multimedia: Photos, Videos, Blogs, Printables…
Visit our social media pages
ECOGIG Overview Video