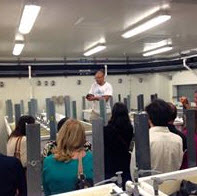 Earlier this month, South Florida teachers attended the CARTHE-hosted science visualization workshop at the University of Miami, intended to help create improved future resources for sharing science.
The workshop featured CARTHE science, NOAA's global drifter program, RECOVER consortium, University of Miami Rosenstiel School scienitists and faciliites, and UM Visual Graphics Professor Alberto Cairo.
We hope this will help create better resources for sharing science in the future. Special thanks to the MDCPS Dept of Career and Technical Education for helping to make this event possible.