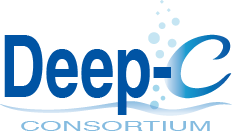 The nature of the Deepsea to Coast Connectivity in the Eastern Gulf of Mexico (Deep-C) Consortium — investigating the issues involved in understanding and protecting ecological communities in the Gulf of Mexico, and the opportunity to create models that make the interaction of the physical, chemical, and biological realms real — provide rich opportunities for engagement with teachers, graduate and undergraduate students, K12 students, policy makers, and the general public.
The primary goals of the Deep-C Education & Outreach efforts are:
To provide real-life Deep-C research experiences for high school students, K-12 teachers, undergraduates, and graduate students from the states of Florida, Alabama, Mississippi, and Louisiana; and
To communicate to the general public, legislators, and other policy makers the importance of Deep-C research in the Gulf as it relates to coastal ecosystems.
Gulf of Mexico Multidisciplinary High School Curriculum
The curriculum is a 155-page book containing five modules, each representing the main research areas of the Deep-C Consortium: geomorphology, geochemistry, ecology, physical oceanography, and modeling. Each module includes five cumulative lessons, background information on the topic, relevant supplementary reading materials, a glossary, and an assessment.
For a downloadable PDF version of the curriculum, click here. For more information, click here.
Deep-C's Education and Outreach Site